A brief synopsis of the two novels follows and a link to a sample reading is provided.
A Bridge To Nowhere: Memories, Morals, Martinis and The Myth of The Promiscuous Man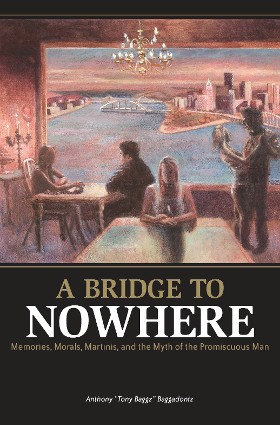 Read A Sample
A BRIDGE TO NOWHERE takes the teaching of moral values out of the pulpit and, for an evening, puts it on a bar stool. It's a sinner's side of the story.
Years ago in one of America's great cities, a bridge partially spanned the river flowing through downtown. It went three-quarters of the way across the water and then just stopped. Unfinished, it hung there for years.
The locals called it "The bridge to nowhere." And at the same time that bridge stood frozen in its arrested journey, life for Joey was a continuous trek across his own bridge to nowhere. What else would you call twenty-five years squandered on the pleasures of a callow youth? The pleasures that are wine, women, and song…or in today's parlance, sex, drugs, and rock n' roll. And today…well, when it comes to unfinished bridges, the city has finally finished theirs, and Joey has finally stopped trying to cross his.
A BRIDGE TO NOWHERE is Joey's story. A lifelong bachelor, it's a journey through his life, a tale he tells his twin nephews in his favorite nightclub high above the city… a virtual second home, complete with a marvelous view, a great band, a fabulous dance floor, and killer carrot cake. It's a story that ricochets from the sober observations of the present to the sometimes zany, sometimes tragic adventures of Joey's past. In sharing his story, he hopes that his experience, and his regrets, might help keep his two favorite nephews off the on-ramp to their own bridge to nowhere.
Written in a "stream of consciousness" style, its theme is character formation, and its focus is on how and why wise choices are critical to forming strong, healthy relationships with women. However, its content and style are also written for parents, particularly moms, and, especially, single moms. Simply put, it is a collection of the talks about life and love that dad should have with his son as the boy grows to manhood. Talks mom may need to have with junior … if dad is absent. Written from a Judeo-Christian perspective, it is simple, real, and has the grace to leave the judgmental attitude and the oppressive harangue in the parking lot for the evening.
So, come on in for a few hours. There's no cover charge, the dress code is relaxed, the food's great, the music terrific, and the company … outstanding. Who knows, you might even recognize a person or two, yourself …
A Bridge to Nowhere, Memories, Morals, Martinis, and the Myth of the Promiscuous Man was awarded a Bronze Metal in 2007 by Independent Publisher Magazine.
NOTE: A Bridge to Nowhere is currently out of print, though a limited number of copies are still available. If interest warrants, ABTN will be reissued when the current inventory is exhausted, with minor additions in content and more consistent with the dialogue style of Fire and Lace.
Fire and Lace: Life's Sacred Journey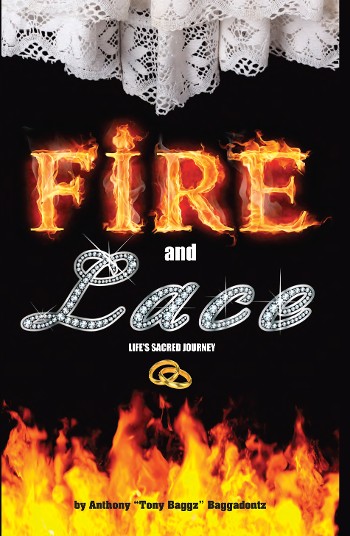 Read a Sample

Foreword and Chapter One
Fire and Lace is the story of a journey; the journey of two young people into the heart and soul of the other. Told against the backdrop of a neighborhood on the Southside of a great American city; it unfolds in the taverns and restaurants, on the ball fields and city parks, in the firehouse and the churches and synagogues … a neighborhood, maybe, much like yours. A tale told to the smell of freshly brewed coffee and cinnamon rolls, and the sounds of a "hoodlum singer," the all-time favorite of a tavern owner named, "Baldy."
Along the way, you'll meet:
Tommy – a firefighter and a skilled EMT, a future top-notch surgeon, and soft-touch for any seven-year-old having trouble hitting a curveball.
and
Aliana – by day, dean of the third grade at Southside elementary; by night, master of the "hot corner" wielding a gold glove and a mean bat.
and
the inhabitants of the neighborhood, the locals. Called collectively, "the neighborhood gang." it includes clergymen with nicknames like "Riff," "Shuckles," "Rail Bird," and "Walk Off," and ordinary guys with names like "Crazy Pat," "Ace," Bobby "Pretzels," Vinnie "Bullets," "Uncle Joey," "Mike the Russian," Nick "the human tarantula," "Ranger"– a Dalmatian you'd swear is human - and Andy, a young man who talks to God … and gets answers.
Along the way you'll learn:
• Why being turned down for a date may open the door to winning a heart
• The world's most broken law
• The missing word in today's wedding vows
• How a monkey can ruin a promising romance
• Who entered a haunted house and left with a job application
• Why Jesus Christ was not a nice guy – and why Christian men shouldn't be either
• Where and when scantily clad single Catholic women wash and wax their expensive foreign sports cars
And much more …
So, I invite you to pour yourself a fresh cup of coffee, put a couple a cinnamon rolls or bagels on the coffee table to savor, curl up in your favorite chair and join Tommy and Aliana on their journey. And if you like, put some "Old Blue Eyes" on in the background ... just to set the mood.
I promise you an interesting trip.
NOTE TO TEACHERS: Fire and Lace has been acknowledged by both college professors and secondary school educators as a valuable classroom text. And, those mentoring couples preparing for marriage may also find value in its story. For this purpose, a teacher's/mentor's study guide is offered for your use along with the text. To learn more, please contact us.
ADDITIONAL NOTE
Several people involved in the world of theater have observed that numerous episodes of Tony's Town would make excellent one-act plays. As our way of saying thanks to those secondary schools that employ Fire and Lace in the classroom, we offer several episodes of Tony's Town as a stage play on a "royalty free" basis. Contact us for further information.
The jacket price of A Bridge to Nowhere is $23.95. Your price on this site is $16.95
The jacket price of Fire and Lace is $26.95. Your price on this site is $18.95
Discounted pricing is available for bulk orders. Please inquire.
Pennsylvania residents please add appropriate sales tax
There is a special price if both books are ordered at the same time. See the Shop Now page for details.
Prices for Canadian and International purchases are slightly higher. Please inquire.